2017 Escorted Britain Tours
Great Britain with its long-standing history of sites, some prehistoric not excluding Stonehenge are available in our list of 2017 escorted Britain tours. From the vast English countryside to the beautiful palaces, there isn't a shortage of things to do in this country. A tour of Great Britain is the perfect choice for travelers that want to get the most out of their vacation. An escorted Britain tour can either focus on mainly London and England or stretch into Scotland, Wales, or Northern Ireland.


The beautiful countryside is made up of castles, cathedrals and wildflowers. Many of the areas have an immense amount of museum, galleries, bustling nightlife, vast shopping opportunities and an overall regal feel. One of the most beautiful bridges in the world can be found in Wales, Llanwst to be exact.The bridge, which was named Pont Fawr was built in 1636, yes, 381 years ago!
Iconic and captivating heritage is woven throughout every Britain experience, creating a special connection to some of the most celebrated history in the world. All of this combined with a thriving and vibrant culture makes it easy to see why Britain has produced some of the world's most acclaimed art, literature, music, and inspiration for movies and television. Take Callanish Circle for example, which appeared in the critically acclaimed series Outlander.Save
Most Popular England Tours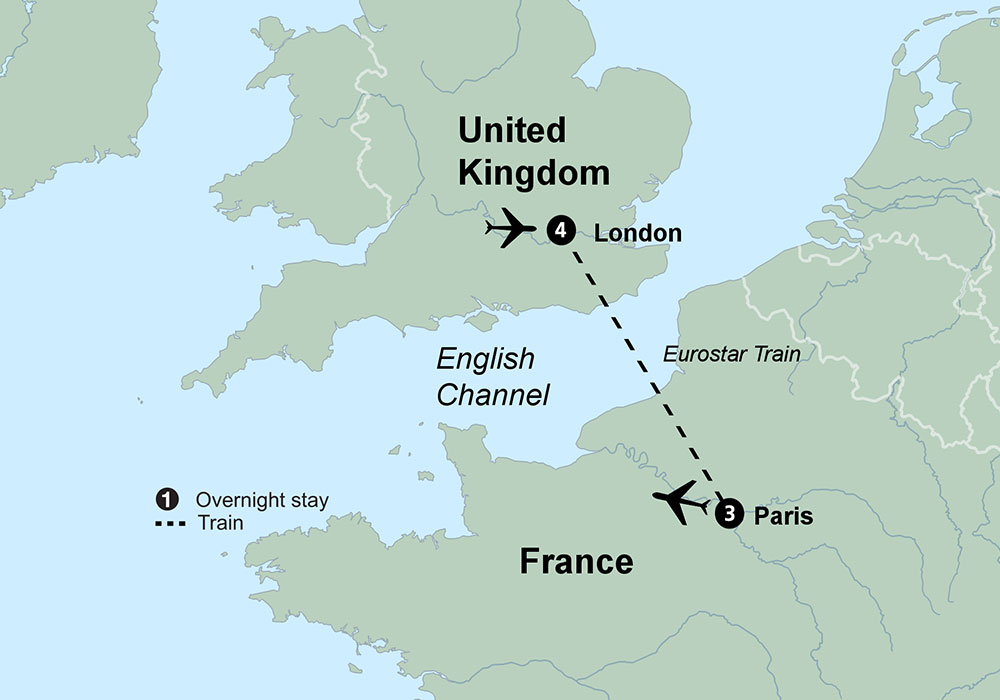 By Collette Tours. 8 Days starting at $2,149
Enjoy the best of London and Paris on this 8-day leisurely tour. All of the top sights are included, as well as plenty of free time for your own discoveries. See Buckingham Palace, the Tower of London, Big Ben and St. Paul's Cathedral. Enjoy a London.. (click for more)
By Cosmos Tours. 15 Days starting at $2,359
TitleWonders of EuropeVacation OverviewFrom London to Paris via Belgium, Germany, Switzerland, and Italy, discover the many wonders on this memorable European tour. History buffs will delight in seeing many of Europe's historic sights. In Rome, visit.. (click for more)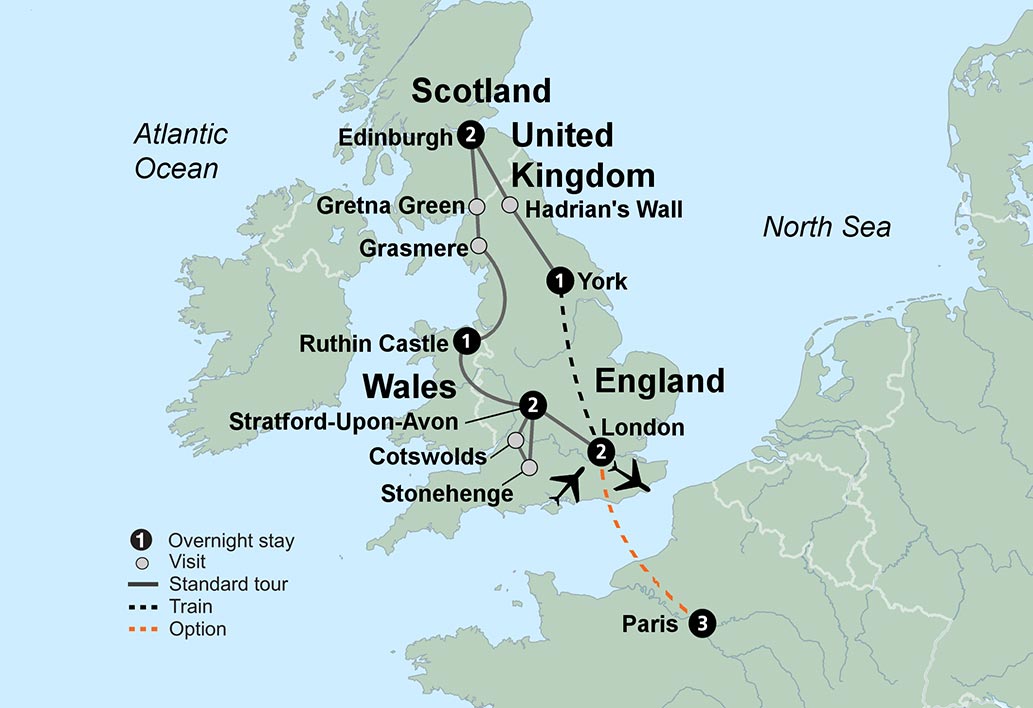 By Collette Tours. 10 Days starting at $2,599
Sleepy villages where sheep wander the grassy hillsides, lakes set amidst mountains that inspired centuries of literature, and cities thriving with arts and culture — these are the landscapes of Britain. Discover them on this 10-day journey through E.. (click for more)
By Tauck Tours. 12 Days starting at $7,245
Our London Paris Rome family vacation - including a sojourn into the heart of the Italian countryside - welcomes you and your family to exclusive experiences off the beaten track, inspiring, enlightening and fun, with lots of hands-on activities and .. (click for more)
By Globus Tours. 11 Days starting at $2,729
TitleEssential EuropeVacation OverviewRome, Florence, Venice, Lucerne, Paris, and London—these exciting and vibrant cities await you on this thrilling European tour. Guided sightseeing tours will highlight the must-see attractions in each city, inclu.. (click for more)
England Tours 2017: Great Britain Tours
London
London is one of the most popular cities to visit in Great Britain. Visitors can see things like Buckingham Palace, Big Ben, St. Paul's Cathedral and Westminster Abbey. This city is consists of culture, art and history all rolled into one.

Edinburgh
Scotland's capital city, Edinburgh, is one of the most elegant cities in all of Great Britain. Highlights of the area are the Royal Mile and Edinburgh Castle. Many come to this city each year to check out the amazing architecture or the Edinburgh Festival.

Oxford
Oxford is a city that is filled with history and higher education. There are over 36 different learning institutions that offer a unique look into Oxford's ancient history and educational opportunities. A walking tour is the best way to explore this area.
Cambridge
Cambridge is very similar to Oxford, but it's smaller in size. This lovely town was walked by individuals such as Stephen Hawking, Newton and Cromwell.
York
York is home to Northern Europe's largest Gothic cathedral, York Minister. The city was once occupied by the Vikings and Romans. The entire area is filled with medieval character.
Stratford-Upon-Avon
Nothing is better than waking up and sipping some English tea and taking a walk in Stratford-Upon-Avon just like William Shakespeare once did. This elegant little town is a must see destination for literature buffs. One of the momentous things to do for travelers is to take in a play by the Royal Shakespeare Company.
Stonehenge
Have you ever seen huge 50 ton stone monuments? Stonehenge is full of them. What's so fascinating about them is no one knows how they were moved to their location or what their purpose was. It's a fabulous place to take a day trip and visit some of the nearby cities as well such as Winchester and Salisbury.
Windsor
There are many different things to see in Windsor. One of the highlights of this area is Windsor Castle. It features more than 1,000 rooms and is one of the residences of the Queen of England. For the kids, Legoland is also nearby. Savill Garden is a great place to visit for garden lovers.
These are just some of the most popular destinations to visit in Great Britain. There are also cities like Glasgow, Liverpool, Wells and St. Ives. There are so many fascinating things to see and do in this area. We offer escorted tours and vacations to Great Britain. An escorted tour is a great way to save money without sacrificing your overall travel experience. We can help you book a vacation to Great Britain that you won't forget.